This beautiful Caribbean island was discovered by Christopher Columbus in 1499 and colonised by the British in 1605 and again by the French in 1667. Saint Lucia gained independence in 1979.
This Caribbean gem is a volcanic island twenty seven miles by fourteen miles with a mountainous interior. The central mountain range spans the island with an active volcano near to the highest point of Mount Gimie at 950m. The most famous of landmarks are Gros Piton and Petit Piton which are a pair of extinct conical shaped volcanoes on the southwest coast just below the town of Soufriere.
The interior of the island is covered in lush tropical rain forest; with a flatter area in the north, known as Rodney Bay, where most of the hotels are located including the Sandals Grande St Lucian (image file, opens in a new window). As well as being a popular tourist destination for those staying in the Caribbean, the island's capital Castries has a large number of visiting cruise ship passengers.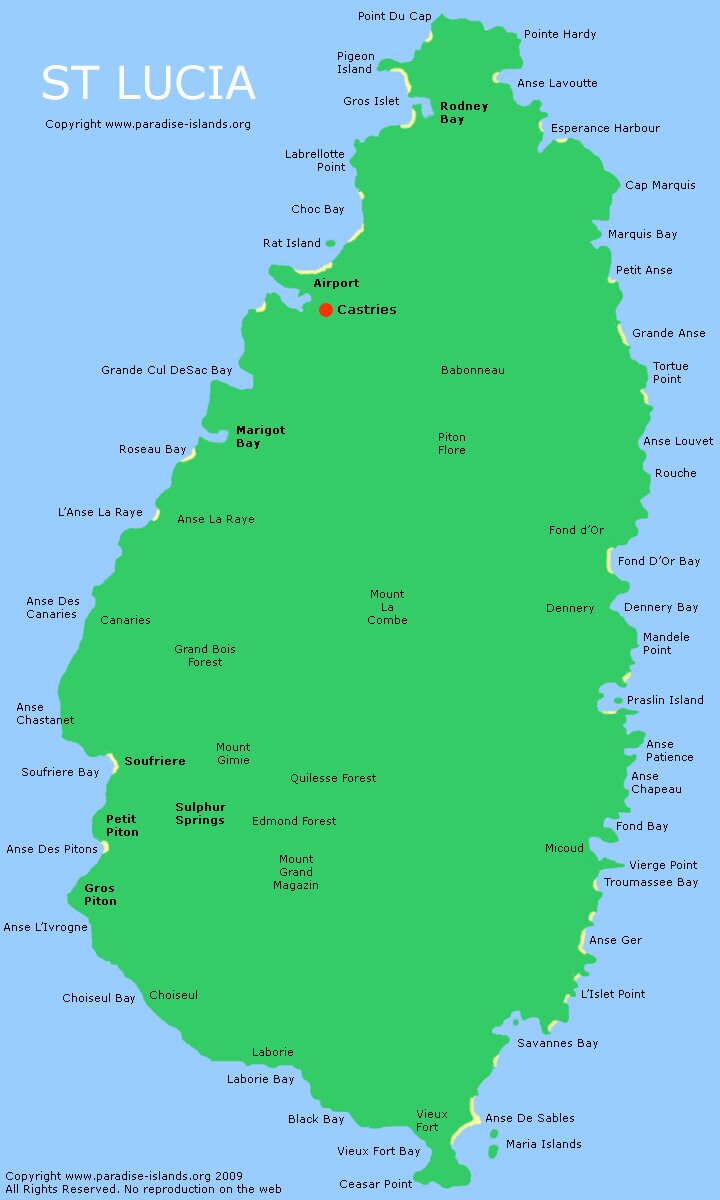 Want to use this image? Paradise Islands grants permission for this map of St Lucia to be copied or downloaded for personal use, school projects, within blog entries or travel forum posts without requesting permission from the copyright owner (please place a courtesy link to this site or this page, thank you). Paradise Islands does not grant permission for this image to be used for general and commercial website illustration.

Copyright Paradise Islands. All rights reserved.
Print this image? Click this link for the JPG file (720 x 1,200 pixels): St Lucia Map (opens in new window)
Interactive Satellite Image
Use the "+" or "-" buttons to zoom in or out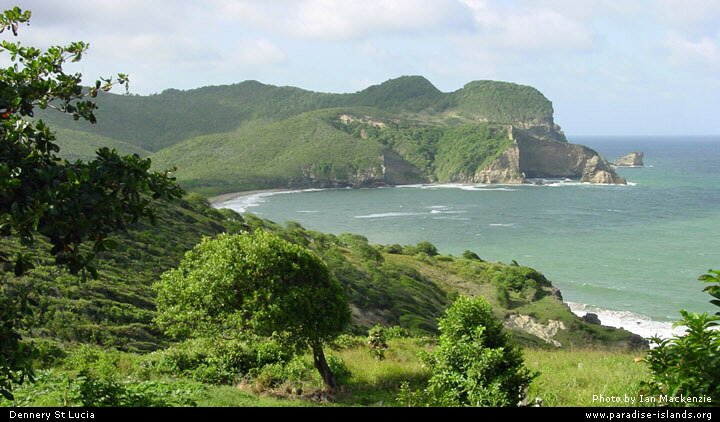 The wild and windy east coast has some spectacular scenery, including Dennery Bay (see image above): but the popular day trips and shore excursions are down the west coast to the Pitons passing the magical Marigot Bay area; the small shanty town of Anse La Ray (image file, opens in a new window) and stopping for lunch at a local eatery in the town of Soufriere (image map file, opens in a new window).
Often a cruise ship excursion will also take in the delights of the Diamond Botanical Gardens and the Sulphur Springs "drive in" volcano. Both tourist attractions are located close to each other.
The highlight for many visitors is actually the drive though the rainforest road on the steep mountain slopes which are covered in trees, bamboos and dense vegetation. If you are lucky you might see a St Lucian Parrot (a "Jacquot") or Boa snake on the road. The Editor of Paradise Islands accidentally ran over one in the early 1990's in a rental jeep (but don't tell the authorities)!
Travel, holiday, vacation & cruise guide to the Caribbean. All text and images are Copyright Paradise Islands org. All images on this website are obtained with the permission of the owners and come from various sources including tourist boards.
The Pitons

Castries

Rodney Bay
Drive-In Volcano
Diamond Botanical Gardens
Rainforest

More Photos

Cruise Port Guide
Some of our favourite
Caribbean destinations

Old San Juan
Puerto Rico

Nelson's Dockyard
Antigua
Soufriere Volcano
Montserrat

Trunk Bay
Saint John USVI
Philipsburg
Sint Maarten

West Coast
Barbados

El Yunque Rainforest Puerto Rico
Willemstad
Curacao

Tobago Cays
Grenadines

Shirley Heights
Antigua

The Baths
Virgin Gorda BVI

Buried Plymouth
Montserrat
Cane Garden Bay
Tortola BVI

Necker Island
BVI